THE UNIWELCO CELL
Makes welding fun!
With THE UNIWELCO CELL you now have completely new possibilities. You get a production-ready welding cell that takes everything into account. The cell allows you to optimize the welding process so that the speed approaches the traditional industrial robots.
The unique Uniwelco URCap means that the programming of items takes place in an easy and intuitive way. The built-in control boxes make it easy and quick to start new welds. The cell is designed to ensure you avoid welding lights and fumes. You have also the opportunity to load heavy items with a crane, as the upper of the cell can be opened. The cell comes with a robot from Universal Robot, as well as a welding machine from Böhler Welding.
WHAT YOU ACHIEVE WITH THE UNIWELCO CELL:
Production-ready welding cell.

Possibility of finished programming of your items before delivery.

An easy programming with the unique Uniwelco URCap.

To make it easy and fast to start new welds.

A high quality on all welding parts.

Modular system.

Manipulator, Weldtrack.

Flexible workflows.

Safe welding with protection from fumes and light.

Possibility of loading workpieces by crane.
WHEN WORKING WITH THE UNIWELCO CELL:
Obtain a safe work environment.

Ensure improved ergonomics.

Make your job much easier.
Inside the cell

Add ons

Customizable

Specifications

Approvals
THE UNIWELCO CELL comes with top of the marked components
When you purchase the Uniwelco Cell you get a top of the line product with the best components inside.
RBCobot, UR+ Certified

Welding Machine (Tig 320 amp / Mig 320 amp)

Welding Table, 2400x1200

URCap, Uniwelcos software
Besides these standart components it is possible to choose a wide range of add ons. These can be found in the next menu.
If you have any questions or queries, do not hesitate to contact us.
Add ons to make the cell of your needs
ADD FROM THE FOLLOWING SOLUTIONS:
WeldTrack 2m

Pinol Dock

Wirefeeder

Turntable tilt 110°
WELDING EQUIPMENT:
MIG/MAG 400 Amp

MIG/MAG 500 Amp

TIG DC AC/DC 400 Amp

TIG DC AC/DC 500 Amp

TIG Cold Wire

AVC Tig Height Adjustment

ACC Mig Pulse Height Adjustment
Contact us and let us together make the perfect Uniwelco cell for you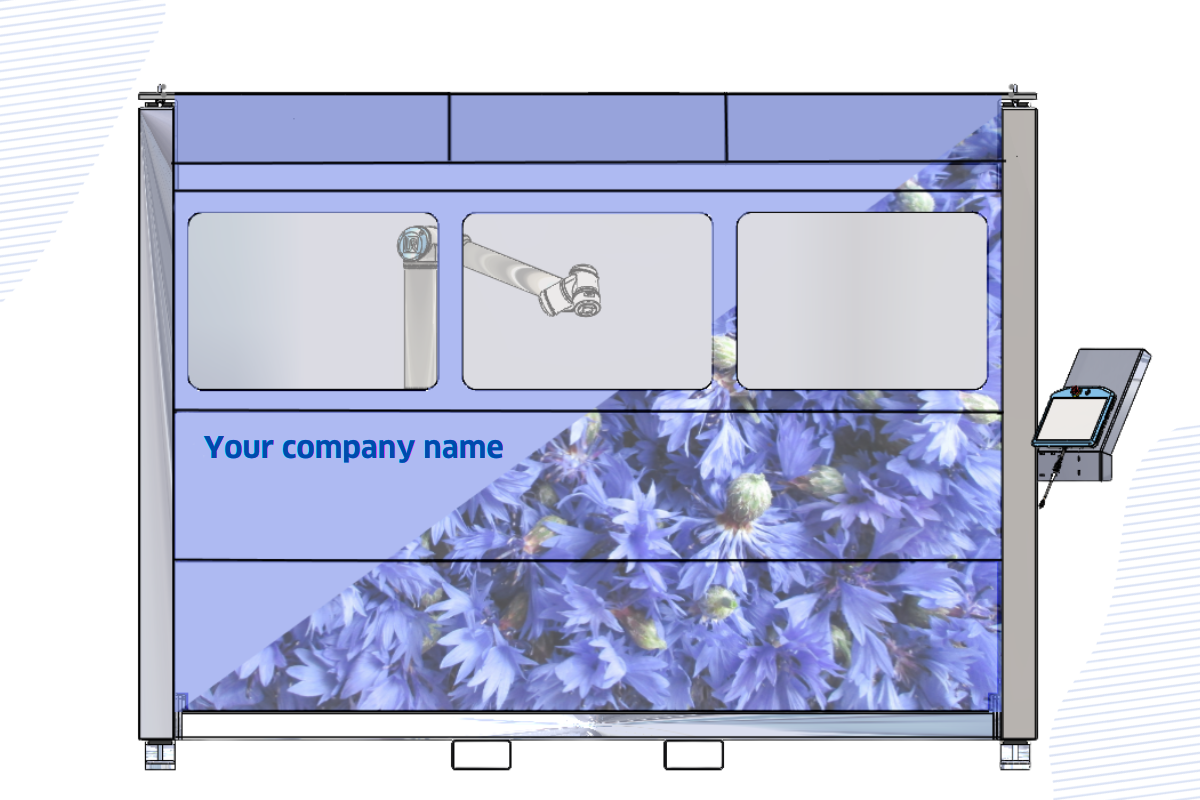 Personalize your cell
The uniwelco cell is customizable, which means that, not only the content of the cell is made to fill your needs. You also have the possibilty to customize the design of the cell. If you want a cell with your own company name, colors or even flowers on it - we can do it.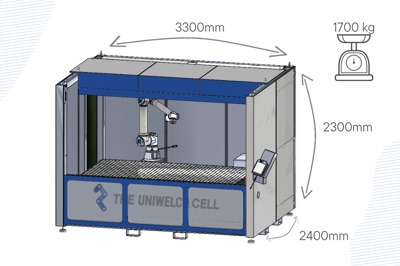 Specifications
:
Length: 3300 mm

Wide: 2400 mm

Height: 2300 mm

Weight: 1700 kg
Approvals:
Approved CE mark

EN 60204-1

EN ISO 10218-2

EN ISO 13849-1