A COLLABORATIVE WELDING ROBOT
What is an RBCobot?
RBCobot is a welding robot that you can program for every welding assignment. We offer RBCobots for either MIG/MAG or TIG welding. RBCobot is a so-called collaborative robot - a cobot - that does not require any extensive safety measures.
The welding robot RBCobot is designed with focus on usability meaning that only a minimum of instruction is needed for you to design your own welding programme that RBCobot executes.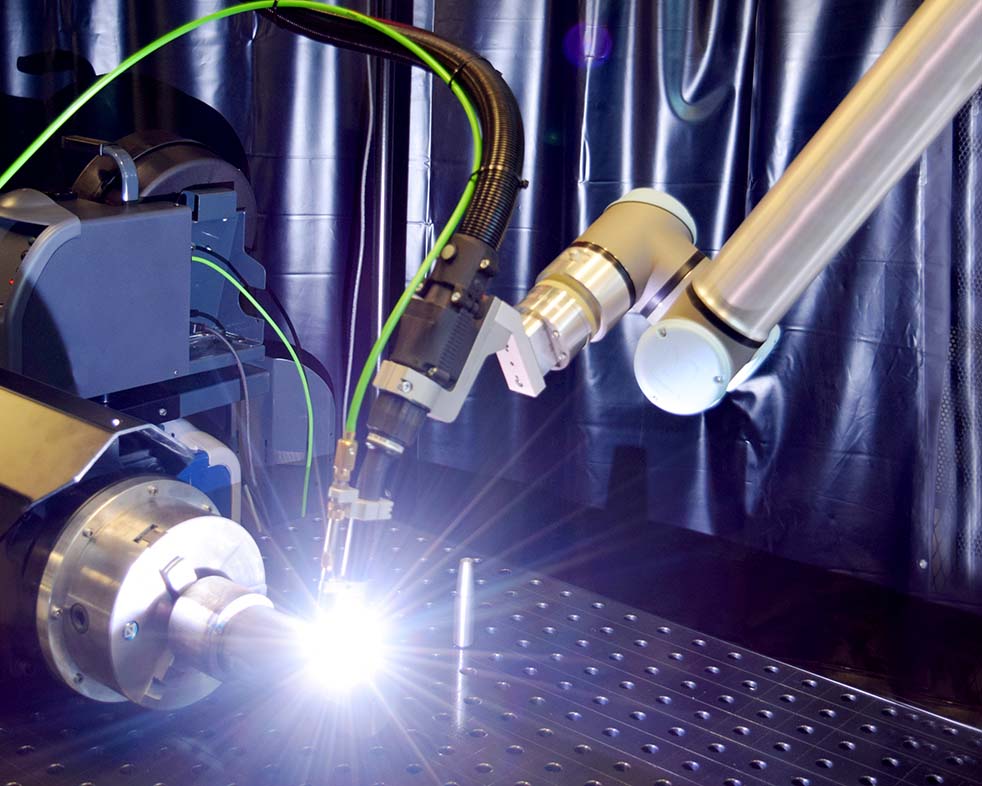 Small amounts
Atomization of small production
Large amounts
Possibility to produce large amounts of workpieces in uniform quality
Perfect control of arc
50 percent faster compared to a manual welding process
Easy to programme
Userfriendly software ensures simple and quick programming
UNIQUE SOFTWARE AND SOLID WELDING SKILLS
What does an RBCobot consist of?
RBCobot consists of a robotic arm, a welding machine, user-friendly software and a welding table. Because of RBCobots high safety standards there is no need for protective shields. Have a look at the MIG/MAG or TIG setup below.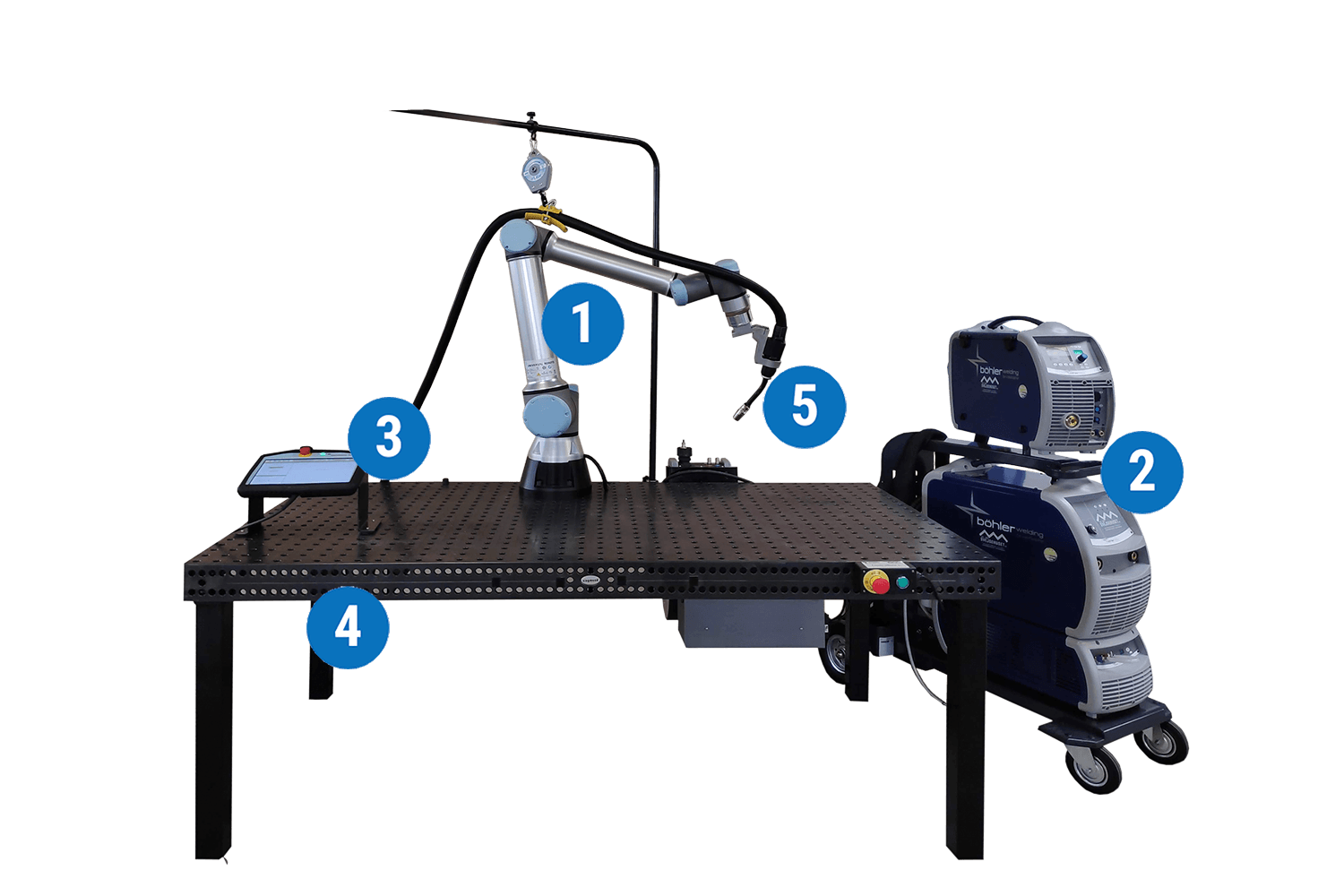 MIG/MAG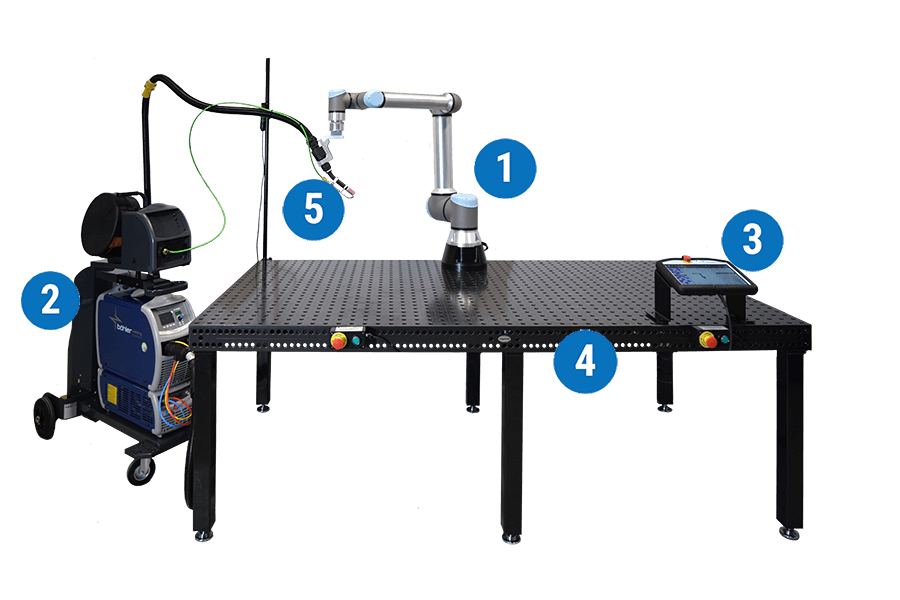 TIG

Welding table
An RBCobot is always mounted with a professional welding table, which makes for easy fixation and optimal placement of items. The welding table is tailored for your specific needs.
READ MORE
Torchhead
RBCobots are also equipped with a torchhead; METZ eller TETZ. RBCobot is also delivered with a watercooled hose-package with waypoint and confirmation button from Dinse.
READ MORE
UNIFORM WELDING RESULTS OF HIGH QUALITY
High quality of welding - MIG/MAG or TIG
RBCobot makes is possible to increase capacity and hereby produce more orders. RBCobot delivers high welding quality and equal results and increases the effective welding productivity rate by up to 60%.
OUR SOFTWARE MAKES IT EASY FOR YOU
An RBCobot is easy to use
We have developed a unique welding programme which makes your setup of the cobot fast and easy. The URCap controls both the robotic arm and the welding machine. You just need to choose your welding parameters and allocate a few points and then RBCobot takes care of the rest.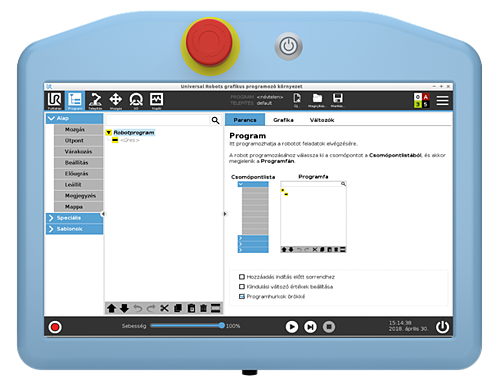 RBCobot is controlled by our proprietary URCap, which reduces time spend programming.
Confirmation button
Confirmation button to easily identify welding points on the workpieces
Waypoint button
Positions are saved easily and by the press of a button
Welding items
The welding programs are easily saved and retrieved later for easy setup
Automatic search function
The search function automatically finds the right distance to the workpiece
Welding features
Weaving, stich welding, vertically ascending etc.
More equipment for RBCobot
In addition to the parts that are always delivered together with RBCobot it is possible to buy more equipment if needed. The extras below are for both MIG/MAG and TIG welding processes.

Turntable
Fully integrated with our proprietary URCap
Turns and welds simultaneously
Can also be used as a manipulator to turn the item
READ MORE

Protection for the teachpendant
Chock absorbing cover, as well as a 0.2 mm. screen protector for the URCap.
READ MORE

Wear parts
Includes all wear parts for the torchhead as well as technical drawings for easy reorder.
LÆS MERE

Extra warranty
RBCobot always includes 1 year of warranty. In addition to this it is possible to buy extended warranty on the robotic arm.
READ MORE
ALL IN ONE SOLUTION We are happy to help with all interior needed in your welding space. If you have any requirements to welding equipment that is not listed on this page please contact us and we will provide all necessities in order to create an all-in-one solution for your company.
Do you want to know more?
We are always ready for a chat about your company's possibilities of an optimised welding process.